For many Canadians, getting access to post-secondary education is a crucial factor in building a successful professional career. But lofty aspirations can come with their own set of challenges, especially of the monetary kind. If you find yourself contemplating college education due to lack of finances, then fret not, for there is a provincial government program in place to help you out.
B.C. Access Grant (Full-Time) is a wonderful financial assistance program started by the British Columbia government to help out students by providing non-repayable grants which mitigate their monetary problems. These aids are offered to aspirants looking to pursue either undergraduate, diploma, or certification programs in public institutions across the province. If you think you fit the bill, then read up on various factors that can determine whether you qualify for this program or not.
B.C. Access Grant – Eligibility, How to Apply, & Grant Amount
Eligibility Criteria
To truly understand if you make the cut, check if you qualify the following criteria:
You must be a citizen of Canada or a permanent resident. Individuals with protected persons status are also considered eligible.
You must be a resident of British Columbia. To be considered a resident, you must have spent at least a year in the state before pursuing your degree if you are an independent student, or one of your parents/guardians must have resided here a year prior if you are a dependent student. You are exempt from the above criteria if you have a protected person status.
You must also furnish a valid Canadian Social Insurance Number to be considered eligible.
To get this grant, you must be enrolled in a full-time program from a relevant institute within the province. It's only applicable for a diploma, a certificate program or an undergraduate degree.
Your financial need must also be high enough to get this grant. Financial Need is calculated by subtracting the monetary help you receive from your parents/guardians/other programs from the actual cost of tuition and major accommodation expenses.
Further elaborating on the previous point, the total income of your family must fall under the income threshold set by the government.
To receive this aid, you also need to demonstrate satisfactory academic performance at your post-secondary program.
Students with previous incarceration records as well as those who have defaulted on other loans are automatically disqualified.
Income Threshold
By now, you must be eager to see if your family income falls under the assigned threshold. This table below will help you understand where you stand, depending upon the tenure of your course.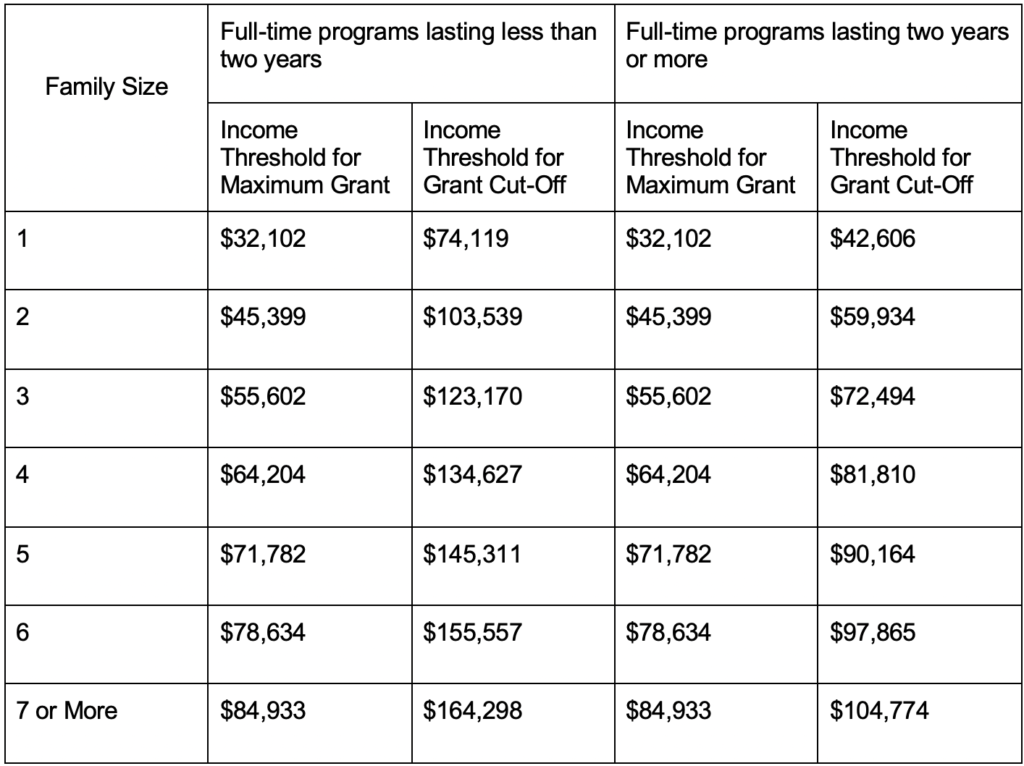 How To Apply
Now, with the criteria out of the way, let's take a look at how the application process actually works. You will essentially need a BC Services Card that will grant you access to the student aid website. If you have newly registered, then your identity will need to be verified by Services BC which involves a video call or in-person interview with the respective authorities. Once you have secured your BC Services Card, furnish the details about your post-secondary program, including the name of the school, and the period of study. You will also need to check if the school you've chosen is actually affiliated with the program. Finally, calculate your financial need as well as assess your family's annual income to see how much money will actually be covered under the grant.
With all details under your grasp, head over to StudentAid BC Dashboard and login using your BC Services Card. The StudentAid BC application will be available online, where you can add in all the details and submit it for review. Don't forget to read the terms and conditions on the forms and tick the consent boxes. Congratulations, your application is on the way! Please note that you can apply 6 weeks before the beginning of your program at the latest.
How Much Can You Get
With the application process taken care of, it's time to see how much grant money you might actually receive. Depending on your family income and size, you might receive a maximum of $4000 (up to $117.65 per week) for an eight-month study period if your course is less than two years. If the course length exceeds two years, you will receive a maximum of $1000 (up to $29.41 per week) per eight-month school year.
While the amount is only for the fixed study period, you will receive more during the course of your degree or graduation program as long as you meet the criteria. Also please remember that the grant amount is strictly decided by your family income, so it may decrease if your annual family income sees a boost.
Other Student Aid Options
It's possible that in spite of your best efforts, you didn't qualify for this grant. Worry not, for there are a whole host of other student aid programs such as Adult Upgrading Grant application, B.C. access grant for students with permanent disabilities, British Columbia Loans for Full-Time Students, BC Achievement Scholarships, BC Excellence Scholarships, Learning disability assessment bursary and a whole lot more. With so many programs to choose from, complemented by an excellent support infrastructure, pursuing college education is now a walk in the park.