So you finished school and perhaps joined the workforce directly. Now, you wonder if you can pursue a college degree and maybe improve your employment prospects in the future. If you have such aspirations and are planning to study in British Columbia, then there's some good news for you. The government of British Columbia offers a specialized grant called BC Adult Upgrading Grant that covers tuition, book fees, and other miscellaneous expenses pertaining to post-secondary education.
It is also important to remember that only certain courses fall under this grant, namely skill upgrades, along with education and training courses. In case you are looking to pursue such a course in the province, then this grant might be your golden ticket. Now, we will explore various aspects of this program in detail.
B.C. Adult Upgrading Grant – Eligibility, How to Apply & Grant Amount
Eligibility Criteria
Here are a few vital eligibility factors which will determine your selection.
First and foremost, you need to be a citizen of Canada or have a protected person status to be considered eligible.
You also need to be a resident of British Columbia, for which, you must have stayed in the province for at least a year before pursuing your program.
You will need to provide proof of income to check whether you are in need of the grant. Also, your family's income shouldn't exceed the maximum threshold limit set by the government, which varies according to the size of the family.
You would also need to list out the financial assistance you would require when declaring your income information.
If you already have a full-time Canada-B.C. Integrated student loan, then you can apply for this grant only if your course load exceeds 100 percent of the total course load.
Fortunately, students pursuing Adult Basic Education or English as a Second Language can receive this grant for another year if they failed to finish the course on the first attempt.
Income Threshold
To better understand if your family's annual income falls under the set income threshold to be eligible for this program, please refer to the table below.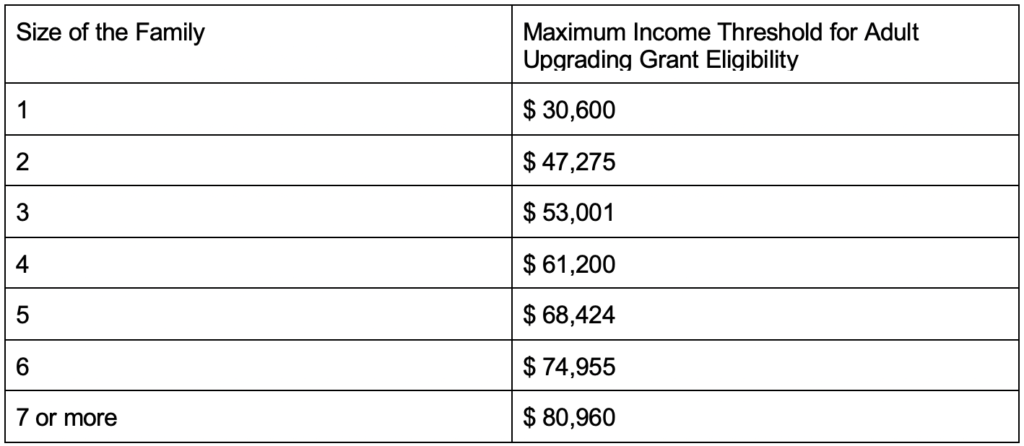 Eligible Institutions
Unlike other grants and programs, Adult Upgrading Grant is only applicable in select institutions around the province. These are –
British Columbia Institute of Technology
Nicola Valley Institute of Technology
Camosun College
North Island College
Capilano University
Northern Lights College
College of New Caledonia
Okanagan College
College of the Rockies
Selkirk College
Coast Mountain College
Thompson Rivers University
Douglas College
University of the Fraser Valley
Kwantlen Polytechnic University
Langara College
Native Education College
Vancouver Community College
Vancouver Island University.
Allowable Costs
While you may get the grant, it is necessary to know what aspects of your post-secondary education will be ultimately covered. For starters, the Adult Upgrading Grant will take care of your cost of tuition and other compulsory fees which you may need to pay. Since the cost of college textbooks can be quite hefty, their expenses are also covered under this grant. Depending on the nature of your course, other supplementary equipment, and supplies such as hard hats, lab coats, etc will need to be purchased. Fortunately, Adult Upgrading Grant will also handle this additional expense. Attaining passes for public transportation to and from the college also falls under this grant. However, in case it is vital for you to use a private vehicle, the costs of transportation will be covered only during the days when you have to physically attend class. Lastly, Adult Upgrading Grant also provides unsubsidized childcare, ensuring your loved ones are taken care of while you pursue your dreams.
How to Apply
Now we finally get to the heart of the matter, the application process. The procedure for applying for this grant is rather straightforward. First, you must ascertain that the post-secondary institution, as well as the program you are attending, falls under the BC Adult Upgrading Grant. Now, head over to the student aid website and click on the Adult Upgrading Grant Application. Download and fill out the form from this page. Once done, make sure you take a printout, sign the copy, and submit the form to the Student Aid Office in your respective institution. In case you have queries regarding the application form or maybe even the process, you can ask the Student Aid Office for further assistance.
How much can I get
You have checked your eligibility, your income and finally filled out the form and submitted it to the proper authorities. Now, you must be curious to know how much amount you can actually receive under this grant. Unlike other programs offered by the British Columbia government, there is no fixed minimum or maximum amount. The money offered will mainly depend on the size of your family and their annual income, for it should be below the maximum threshold. Other loans, grants, scholarships, or federal assistance programs you have applied for will also affect the grant amount. Due to so many variable factors, there is no concrete amount that can be listed for this grant.
Other Student Aid Options
Perhaps you are skeptical about receiving this grant. In that case, you will be delighted to know that there are a plethora of other student aid programs on offer such as Federal Student Grants, Federal Student Loans, Federal Student Scholarships, and Federal Student Bursaries which are all equally adept at helping out with your financial needs.